Unique Hen & Bridal Parties!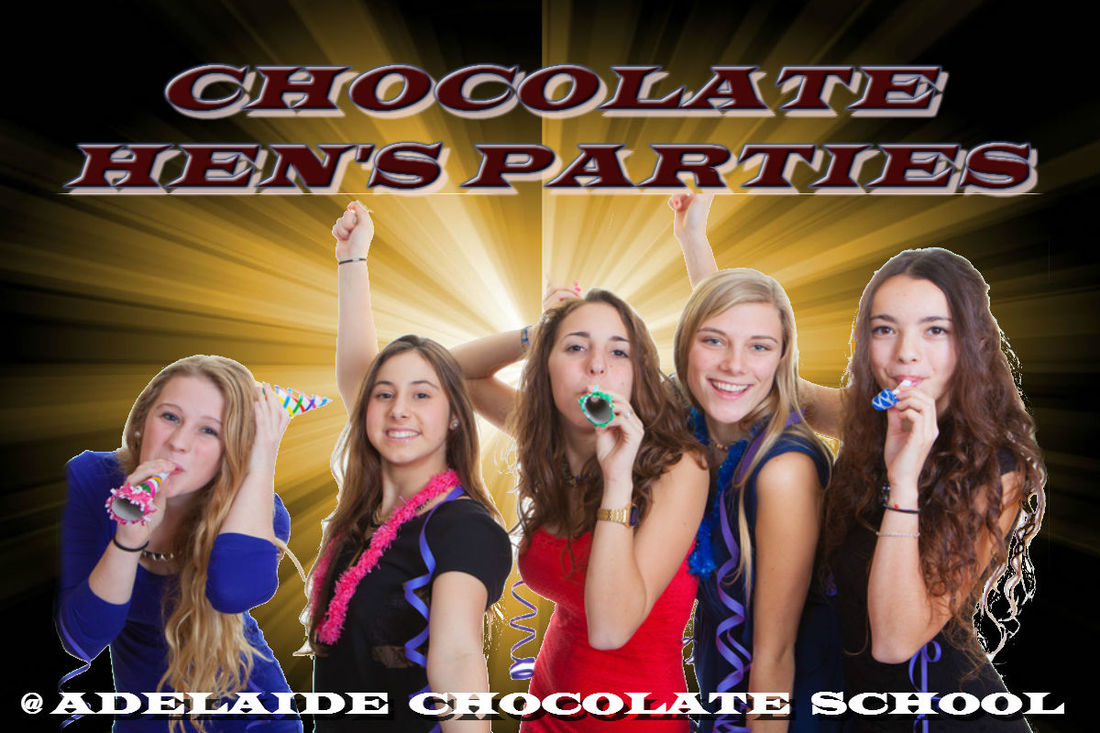 Tailor make a session for your group by creating a variety of themed chocolates to celebrate your hens night. Great for a one of a kind Hen's Night!
If participants are over the age of 18 and with group consent, we can even make adult only chocolates with the use of our adult only moulds.
The chocolate is unlimited - including milk, white, dark and coloured chocolate - plus we provide you with cellophane bags and ribbon to package up your chocolates to take home and show off!
We even supply aprons so you can keep yourself clean if you are going out for lunch or dinner after the chocolate making fun!
CURRENT BOOKING BONUS - currently all hens group bookings made will also receive the use of a complementary chocolate fountain with fresh strawberries and marshmallows for your group to use during the session as a gift from us!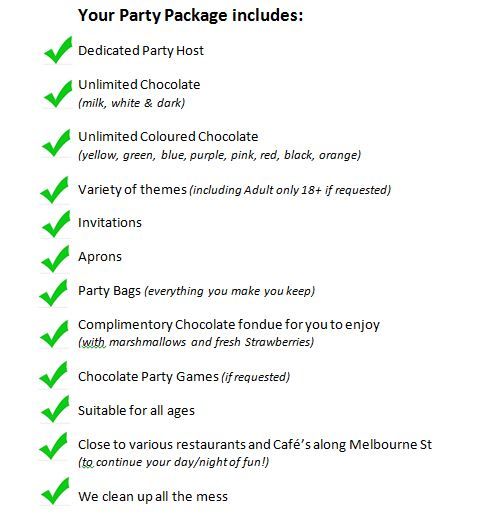 Booking Times:
Price Guide: CLICK HERE
Availability: CLICK HERE
Frequently asked Quesions: CLICK HERE
To fill in an enquiry: CLICK HERE
Please contact us for further information: admin.acs@bigpond.com or phone
between 9.30am and 2.00pm Monday to Friday on (08) 7120 2664.
Don't forget there are many fantastic restaurants along Melbourne Street that can be your next location for a fantastic day or night out with the ladies, and all in the one location!
Click here for a simple Invitation for printing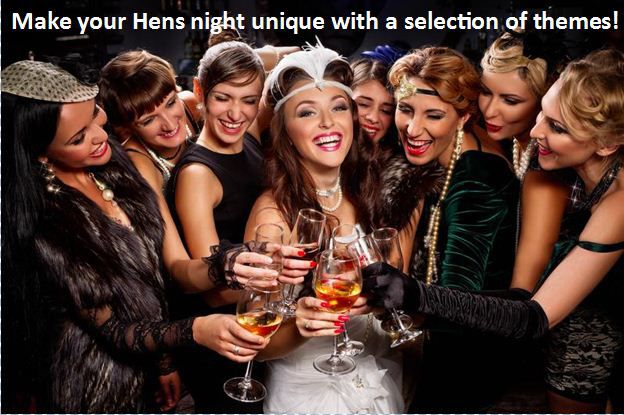 Frequently Asked Questions:
How long are the Party Sessions?
All birthday/hen and corporate bookings are 90 minutes in length. This is plenty of time to make a range of chocolates and have lots of chocolate fun.
Is there a suitable age for participants?
Anyone of any age is welcome to join in on the chocolate fun. We have adjustable small tables for participants under 8 years old and our larger standard tables for groups of 8 years and over. When booking it is best to let us know the estimated age of the participants so that we have the most suitable tables ready for them. Anyone under 4 may need assistance from their parent/guardian throughout the session.
What times can we book?
All weekend party bookings are set times so that we can accommodate a number of sessions on each day. Session times you can choose from on a Saturday and Sunday include, 10am to 11.30am, 12.30pm to 2pm, 3pm to 4.30pm, 5.30pm to 7pm and 8pm to 9.30pm.
Can we book a party during the week?
Yes you can book a party during the week subject to trainer availability. Weeknights are popular and you can have flexibility of times for Monday to Friday bookings.
Can we book a party during the school holidays?
Yes you can book a party during the school holidays subject to trainer and venue availability. You can have flexibility of times for Monday to Friday bookings. Weekends bookings are still at set times.
How far out do I need to make a booking?
The earlier the better! Some times of the year fill up very quickly particularly during the warmer months when we have more hens group bookings competing for times with birthday parties. If you have a specific date and time in mind it is best to get in as early as possible (4-6 weeks out on average) if you leave it til one or two weeks out you most likely will miss out on your preferred time on the day L We have an online schedule that we try and keep up to date as best we can and is updated bi-weekly roughly. This is only used as a guide to our availability and some dates and times change rapidly between updates. It is best to email us as soon as you know which time you need so we can hold it for you if still available – admin.acs@bigpond.com
How many people can attend?
Our training space has been approved to have up to 20 participants in a session. Therefore we have designed the room to accommodate a maximum of 20 participants. If you would like to hold an event for more than this we would need to divide the group and run sessions back to back for you. You will need to contact us to discuss this option.
Do you supply invitations?
Yes we have invitations online that you can print out at home as many times as you need at any time. Some people wrap these around chocolate bars before handing them out for a bit of extra fun.
Is there are minimum number?
Yes we have set a minimum number of 7 for any private party booking. This is to ensure we can cover the costs of the room, trainer and the ingredients being used. You are more than welcome to have less than 7 in your group but you will still be charged for the minimum of 7 participants.
How much does it cost per person?
A costing depends on the number of people at the party. For a 1 ½ hour party the minimum cost is for 7 participants at a rate of $50 per person, 8 people participating is $45 per person, 9 - 11 people is $40 per person and the cheapest rate is $35 for 12 and maximum of 20 people.
What do we do in 90 minutes?
During the 90 minutes the trainers welcome everyone and get them ready with aprons and washing of hands before we teach everyone how to make a range of novelty chocolates (solid, 3D hollow, lollypops etc depending on the ages and abilities of the participants). Each participant has access to coloured chocolate to make their own unique and creative designs before filling with white, milk and dark chocolate.
How early do we arrive?
We ask that you do not arrive any earlier than 15 minutes before your session time. Before this time the trainer is setting up ready for your group to arrive so that it is all ready to go when your guests arrive.
How much time do we have after the session?
We do ask that groups depart on time at the end of a session as we have many sessions on one day and the trainer needs time between the sessions to clean up after each group and get ready for the next one. Therefore any party food, drinks and games need to be within the 90 minute session you have allocated and booked for.
What type of Chocolate is used?
We use Nestle White Chocolate, Cadbury Milk and Cadbury Dark Chocolate for all birthday/hens and corporate groups. We also use the Nestle white chocolate combined with oil based food dyes to create a range of fun coloured chocolate for everyone to use.
What do they take home?
Each participant takes home everything that they have made during the session in their own cellophane bag tied with ribbon so they can show them off (unless they eat them first) Therefore there is no need to bring extra party lolly/loot bags for the participants as they create their own.
How much do they make?
Each participant is different and therefore there is no set amount that they make. Some participants spend time using the coloured chocolate to decorate every part of the moulds while others slap the chocolate into the moulds without being creative. We do have a maximum of one fridge shelf per participant so that the fast participants have the same amount of space as the more careful and slower participants. If they work too fast and fill their space quickly they will have to wait for something to set before creating more. We have designed the session so that they can create a number of different chocolates and have some setting in the fridge while working on more.
Are there any themes?
When it comes to themes we try and include the interests/hobbies of participants where we can. For example if someone loves music we have a range of music moulds or they may like sport, a particular animal or a character of some sort.
Many hens groups request our adult only range of novelty moulds when the group is over 18yr's of age. These moulds are set up at one end of the training space when requested and we also set up more family friendly moulds at the other end to ensure there is a variety for everyone.
We have many, many, many different moulds that we can use to make each party slightly different from another if requested. We include any requested moulds as extras to our standard moulds that we place out for all groups. If you are unsure of the types of moulds the trainers will place out a selection they think is age appropriate and see what is popular and then build the range around this. If you have a theme you would like to include you will need to let us know with as much time as possible if we need to order in moulds as this can take weeks. Themes are no extra cost for a booking. Please note that we can't guarantee all theme ideas.
What if there is Allergy/dietary requirements?
We do have nuts and dairy products on premises for some of our structured classes. Anyone attending a party with allergies needs to bring all of their medications and if they are a minor they need to attend with their parent or guardian. Sweet William chocolate can be requested for anyone with allergies but this needs to occur at least a week or two prior so we can ensure we have this available. Please note that all equipment, moulds and paint brushes have been used for all types of chocolates. Care is taken when cleaning but it can't be guaranteed that all traces have been removed.
Is there onsite parking?
Unfortunately we do not have onsite parking but as we are at the quiet end of Melbourne St there is normally ample street parking out the front or in the Dunn St car park only 100m over the other side of the road from us. Dunn St car park has a 3hr time limit and is free. All the street parking near us is also free and is zoned either 1hr or 2hr's Monday to Friday between 9am and 5.30pm and Saturday between 9am and 12 noon. Then after this on Saturday and Sunday these parks are unlimited. All day parking is located on the streets behind Melbourne St if you need longer than 3hrs during the week.
Can we bring extra drinks and food to parties?
We do provide filtered water for all participants during the sessions. We currently have a promotion at the moment for all new hen's night bookings – We provide a complementary chocolate fondue with fresh strawberries and marshmallows for your group to use during the session as a gift from us! You are also more than welcome to bring along additional food and drinks (plus plastic glasses) for your guests to enjoy if you wish to do so.
Can we play chocolate games?
Yes you can have party games included in your booking but please note that any games will use up time within the 90 minute session time. If games are requested we try and run them during the last 20 minutes while the last of the chocolates are setting. You can make a choice on the day of the event to include a game or not. Just chat to the trainer on the day so they can work with the times to include them if wanted.
Can we decorate the room?
Yes you can bring in decorations that can easily be set up and removed quickly. As we have a range of different group bookings on one day we do not have set decorations in the training space for specific occassions.
What do we wear?
We do advise people not to wear white clothing because of the food colours and chocolate potentially staining. Aprons are provided to all participants. We also prefer participants where comfortable nonslip shoes as they will be standing throughout the session on a tiled floor. If you have long hair it is best to wear your hair up if possible to prevent it getting into the chocolate.
When do I need to give numbers?
When you make the booking we will ask for an estimate on the number of people you are looking to invite for our booking sheet. We will only ask for definate numbers when we send you a final number email on the Monday or Tuesday before your event date. We ask for the most accurate final number so we can ensure the room is set for this number and ready for you. (If the trainer needs to set for a greater number turning up on the day this will take away from the chocolate making time your group will have on the day, while they set for the extra's)
What if people do not turn up to the party?
We ask for the most accurate final numbers 2-5 days out from the event date as we are not able to issue refunds after the event due to participants not turning up on the day. If you have not heard back from someone do not include them in the final numbers and if they then arrive on the day we can then sort out the extra payment then.
Do you require a deposit?
Yes we do require a deposit to secure the date and time for a booking. This Deposit is non-refundable if the booking is cancelled less than 3 weeks out from the booking date. The deposit amount is a set $200 and is not based on the numbers attending. This amount is then deducted from the final amount payable based on the final numbers.
When is the balance due?
The final balance (based on the final number of participants) less the deposit paid is due before the event date not on the day. Trainers on the day are assisting the participants and it is hard from the to take time out to process payments unless agreed prior with the admin staff during the week.
How do we make payments?
We generate invoices through the PayPal system. These invoices are emailed to your prefered email address and can be paid with most credit cards. You do not need to have a PayPal account to make a payment. If you prefer to make a payment via a bank transfer you can use the invoice number as your reference and then email us your receipt number. Online PayPal payments are instant and both you and we will receive an instant receipt from PayPal.