We have a wide variety of chocolates perfect for your Wedding Day and your Budget.
Select from a large variety of truffles, moulded chocolates and even custom made chocolates to create the right gift for your guests and bridal party at your upcoming wedding.
(Please note this page is still under construction
for detailed information on our full range please contact us)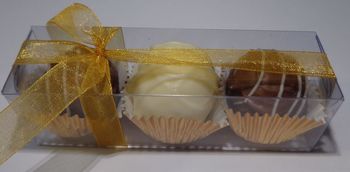 Truffle Flavour Selection

White Chocolate Base
Milk Chocolate Base

Dark Chocolate Base

Plain

Plain

Plain

Coconut

Butterscotch

Butterscotch

Lemon

Caramel

Cherry

Lime

Coffee

Coffee

Passionfruit

English Toffee

Hazelnut

Raspberry

Hazelnut

Orange

Rose

Orange

Peppermint

Strawberry

Peppermint

Rum

Vanilla

Strawberry

Vanilla
Truffles can be ordered and packaged in a variety of ways from singles to packs of 3 or more. We can package them for you or provide them loose for you to either package or simply serve with coffee and cake.